Exhibits
CULTURAL EXCHANGE FROM CHICAGO TO AJIJIC
December 1, 2012
The Cultural Center of Ajijc will be host to the The Perspective Group and Photography Gallery from Evanston, IL (the nearest Chicago suburb).   The show opens on December 1, 2012 and continues for two weeks. The Opening Ceremony and cocktail hour will be at 6 p.m.
The Gallery is a community-oriented cooperative whose purpose is to promote photography as fine art. In addition the Gallery sponsors an annual, international juried photography exhibition.
The Gallery and Jill are hoping that they can make this a real cultural exchange and bring some of our local photographers for an exhibit in the Prospective Gallery.
---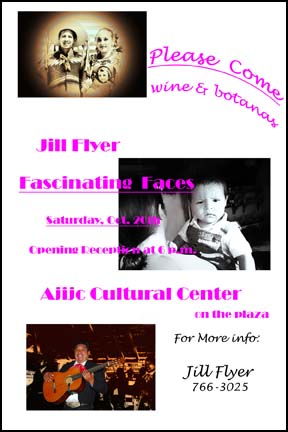 Jill  Flyer is opening  a solo exhibit at the Cultural Center of Ajijic called "Fascinating Faces".   The exhibit starts on Saturday, October 20th at 6 p.m.  Wine and refreshments will be served.
Jill has been shooting photos in the Lake Chapala area for ten years, usually serious studies of nature or people.  She has won awards and has shown her work in various galleries and museums here and in the United States.  However, this show is a little less serious.  It is compilation of portraits taken over the years, of every day, normal people who were "caught" in the moment with humorous expressions or in whimsical situations.  Hopefully, these photos will put a smile on your face.
The show will run for two weeks.  If anyone has any questions about the show, please contact Jill at: fotoflyer2003@yahoo.com
Click Here for 'Fascinating Faces' Exhibit
---
E-mail: fotoflyer2003@yahoo.com
Phone: 011-52-376-766-3025
Ajijic / Lake Chapala, Mexico
Se habla español; On parle français; English spoken